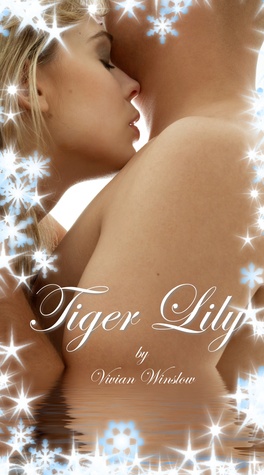 Tiger Lily
(Gilded Flower #3)
Date of Publishing :July 20th, 2014
Genres: Romance, Adult, Contemporary
Links: Goodreads | Amazon | Barnes & Noble | Kobo |
My Rating: ★★★
Synopsis
Weary from battling a hostile takeover attempt of her family's company, Lily seeks a distraction in Todd, an erstwhile bartender with a large trust fund and magical tongue. Meanwhile, a connection seems to be developing between Lily and Alejandro, a wealthy and gorgeous Cuban-American, whose brother, Rodrigo, is dating Lily's twin sister, Dahlia. When Alejandro unexpectedly rebuffs Lily one night, she is deeply dismayed. But, after seeing Alejandro's picture with a gorgeous Latina model in the gossip pages, Lily thinks it wasn't just a misunderstanding. When the sisters and brothers reunite in Aspen for a ski weekend, will Lily's heart remain frozen or will the fire between her and Alejandro rekindle and melt away the ice?
My Review
No. No no no no no. This book did not just end like that.
Why, God, why? *shakes fist at heavens* To say that Tiger Lily left me hanging is an understatement.
I loved Lily in Calla Lily—owing to the fact that she was strong, mentally and, um, sexually—and Tiger Lily only serves to prove how smart she was. Baron Media is being subjected to a hostile takeover and with her father unable to take charge, Lily is at the helm of this project deciding what is best for family and herself. Her heart however is on the line and she is left seeking "solace" from Todd and "company" from Alejandro.
And by "solace" and "company", I mean orgasms.
If I'm being honest, I'd say that I want to see more of Todd. He's the perfect gentleman, who is also a bartender (squee!) and who genuinely cares about Lily. He listens to her ranting about the takeover but also about Gustavo. So he'skind of an all-rounder friends with benefits person for Lily.
And as the perfect stress buster, Lily, Dahlia and Vi decide to take a vacation in Aspen. This turns out to be the best thing for them because remember Alejandro? Yeah.
YEAH.
I realize that while there are three more installments to this series, and a lot can happen in three parts, I wan these two to end up together. They're just perfect and Alejandro is perfect and they're perfect together!
I liked that I got a lot more insight into Dahlia in Tiger Lily, than I had gotten in the previous two books. There's definitely more to this twin than just being the cheating sister. And maybe love on the horizon for Dahlia?
With Tiger Lily we end the Lily Trilogy but not the Gilded Flower series. And since the focus in the next series will shift from Lily to Dahlia, I'm anticipating Dahlia's voice will be maybe a bit stronger than Lily's ever was. And a lot of things seem to be happening with the Baron family that the sisters seem to be unaware of yet, so there's that as well.
Miss Winslow has nailed what seems to be the perfect formula to keep readers hooked. The entire trilogy is an ode to wet panties and I absolutely CANNOT WAIT for the Dahlia trilogy!
Rhea Yaps with Vivian Winslow
The Gilded Flower series is your first foray into published writing. And there must have been so many feels the day you hit that Publish button. Tell me about that moment.
There were definitely mixed emotions. As a matter of fact, I was so nervous I had a friend hit the Publish button for me. But something inside me felt it was time to share this story with the world. I felt some excitement as well, along with resolve and a sense of accomplishment. It's like anything else in life. Unless you push yourself forward and are willing to take risks, like putting your book out there, you won't grow or develop. I was definitely ready to take this big leap.
Asking you to choose your favorite among all the characters you've written would be like asking you to choose your favorite toenail. But if there was one character, just one, that you could write about forever, who would that be? And why?
Ugh. Best worst question ever. It's almost like asking me if I have a favorite child. You love them the same amount but differently. Right now I'm writing Dahlia's story, so I'm inclined to say I could keep writing about her. Her story comes easily in the sense that she's incredibly free and fearless so there's a great deal of flexibility with her character. Lily, on the other hand, had a very direct, clear-cut story. It was somewhat circuitous, but I never doubted her outcome (although the person she ended up with wasn't clear to me until the beginning of book 3). Dahlia's arc hasn't been obvious to me from day one. I've enjoyed the challenge. Hopefully readers will see why when they read her trilogy. Of course I haven't written Vi's story yet, so this answer may change. You'll have to ask me this same question in a few months.
How much of your own personality do you incorporate in your writing? Be it likes, dislikes, funny incidents. Tell me everything!
My characters occupy an entirely different dimension in my head. It didn't take long for them to take on a life of their own once I began the story. So I find their likes and dislikes are entirely their own.
That said, I love food and shopping which is why I incorporate restaurants and clothes into the story. Living in New York, I enjoy including places I've been to, like the bar where Lily has the voyeuristic experience. Also, traveling is a great passion of mine and have visited or lived in a lot of the cities I write about in this series. For example, Rio is such a sexy city, and one of my favorite, so it seemed natural to me for Lily to have her sexual awakening there. It's important to me to have a tangible connection to the story this way. Hopefully it makes the setting more organic for readers.
On the other hand, I will neither confirm nor deny any connection to the sexual exploits or relationship drama in the books. I will say that love and relationships (from casual to serious) are complicated and funny and crazy, and it's all been quite a learning experience.
Are you a kind of author who prefers to listen to music while writing? If so, then what exactly is the type of music you'd suggest for the books?
It's too distracting to listen to music while I write. However, I will listen to music while I write a love scene. It can take up to an hour to write a fully developed scene (including reading it over and over again to make sure all the details are there and the movements are smooth), and it takes getting into the right mindset. Music gets me to that point more quickly.
While writing the Lily Trilogy, I listened to a lot of Lana del Rey, The xx, and Thievery Corporation. It's completely different with the Dahlia Trilogy. For her scenes, I listened to a lot of Miguel and Drake on a constant loop.
Are you an outliner or do you just write as it comes to you?
Outlining would probably make my life easier, but I can't do it. I usually talk to a friend who is great at helping me work out the story lines. She asks the right questions for me to consider before I write myself into a corner, which can happen when you don't have an outline. Haha. It's been interesting writing this series. The novella style is restrictive in some ways, but the characters can be the guides. I enjoyed allowing the story to unfold.
As of today, what are the projects you're working on?
I'm currently working on Red Dahlia, which is the final installment in the Dahlia Trilogy. It's challenging because it has to tie together the events from the first two Dahlia books, incorporate Lily and Alejandro's story (yes fans, I bring them back!!), and pave the way for Vi's story. There are a few threads that will get tied up by the end and a few others that will have to remain dangling until the Vi series is written.
Once I realized that Lily's story would become part of a longer series, I resolved to make sure her story continued in tandem with Dahlia's and Vi's. I think the characters' stories are enhanced by their interactions with each other and give the series a more novelistic quality.
| Pinterest |  Twitter | Goodreads | Facebook |
I'd like to give a massive hug to Vivian for agreeing to do the interview with me. I couldn't tell who was more excited–her or me! She was a perfect sweetheart and I wish her all the good luck in the world for all her coming ventures ❤ ❤
*I was provided with a free copy of this novel in exchange for an honest review. That does not–in any way–influence my review of this book.*